The fast, ver­satile hand-set sys­tem
Dokaflex 1-2-4 is the fast, ver­satile floor-slab form­work for any de­sired lay­out. The quan­ti­ties are com­put­ed very sim­p­ly, us­ing the slide-rule, with no need for form­work plan­n­ing. Meet­ing in­di­vi­d­u­al re­quire­ments re­gard­ing the con­crete fin­ish is no problem, as any type of form-fac­ing can be cho­sen.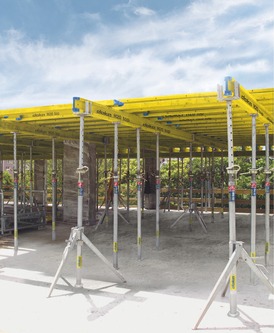 Adapt­a­bil­i­ty to all lay­outs
by te­le­s­cop­ing the form­work beams
down­s­tand beams and floor ex­ten­sions can eas­i­ly be solved 'within the sys­tem'

per­fect adapt­a­bil­i­ty to columns and walls

op­ti­mis­ing for dif­fer­ent slab thick­ness

suit­able for shor­ing fili­gree slabs
Safe and fast to set up
thanks to pre-defined sys­tem grid
search-times are min­imised by hav­ing on­ly two dif­fer­ent lengths of beam

the mark­ings on the beams make the sys­tem quick to set up and check
Durable and prac­ti­cal
thanks to its stur­dy sys­tem com­po­nents
high num­bers of re-use cy­cles and re­duced close-out costs, due to the shock ab­sor­bers and pro­tec­tors on the sys­tem com­po­nents

site lo­gis­tics are sim­pli­fied by the per­fect­ly co-or­d­i­nat­ed sys­tem com­po­nents

first-rate con­crete sur­faces, as any type of form-fac­ing can be se­lect­ed
Beam H20 ­top
Up to 3 times the lifespan, thanks to built-in shock absorber
effective protection against moisture and UV radiation, as beam-ends are sealed around web
fast, safe formwork set-up by referring to markings on the flanges
unmistakably identifiable, thanks to labelling option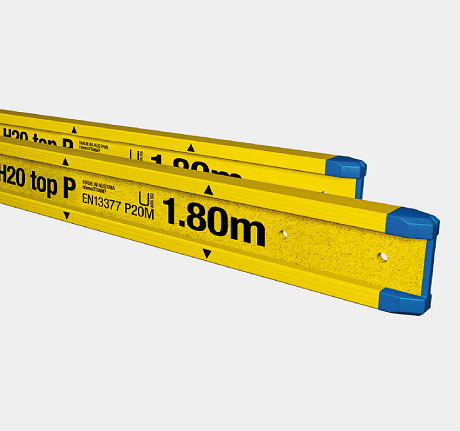 ProFrame pan­el
The rentable panel with an all-round shock absorber
cuts costs with option to either purchase or rent
achieves high number of re-use cycles, with its all-round edge protection and special surface sealing
unmistakably identifiable, thanks to labelling option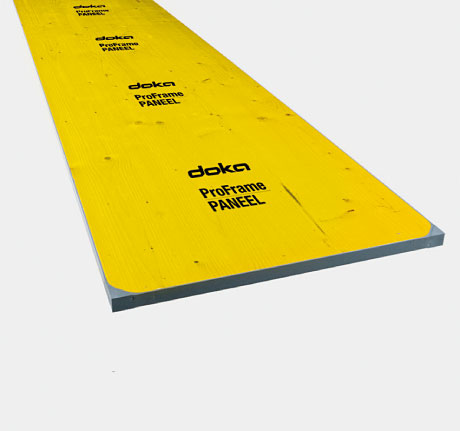 Floor prop Eu­rex top
The first-ever floor prop with an impact protector
long-lived, due to impact protector
easy-to-turn adjusting nut, thanks to special thread geometry
less physical effort needed, thanks to the prop's low weight
operational safety achieved by consistently high load capacity of at least 20 (30) kN in accordance with EN 1065 - Class D/E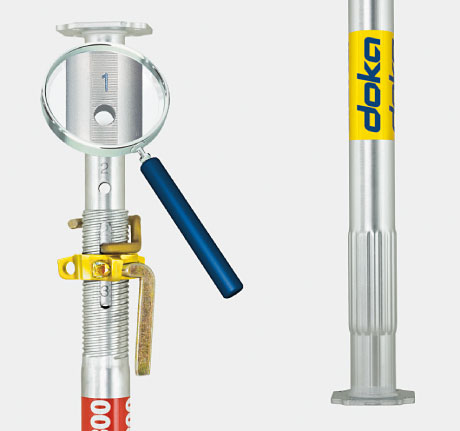 Here's how eas­i­ly the sys­tem works
1-2-4 – these are the maximum spacings for setting-up Dokaflex 1-2-4. Triangular marks on the beams serve as a built-in 'measuring tape'
1 mark = maximum spacing of secondary beams
2 marks = maximum spacing of props
4 marks = maximum spacing of primary beams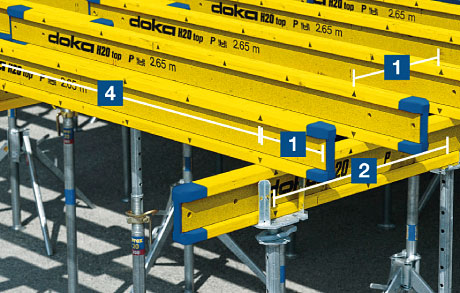 Do­ka floor end-shut­ter clamp
This quick and easy system solution for stop-ends provides greater safety at the edges of floor-slabs, and high flexibility, with a choice of different attachment methods, types of stop-end and ways of safeguarding slab edges.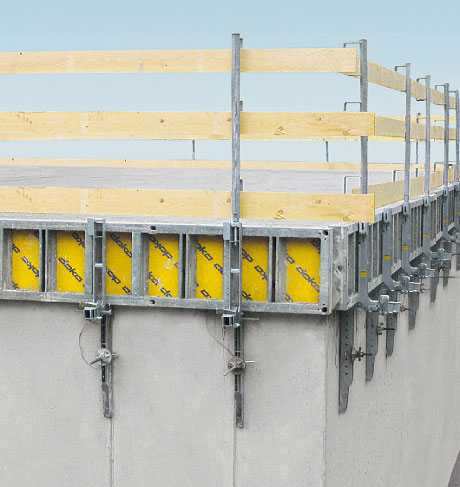 A clean so­lu­tion for down­s­tand beams
The Beam forming support 20 lets you quickly and accurately adjust the formwork for downstand beams, right down to the last millimetre. To do this, the Beam forming support is simply placed onto the secondary beams and tightened. This automatically pulls the side-formwork tight, for clean concrete faces.