The right re­lease-agent for ev­ery ap­pli­ca­tion
Do­ka of­fers re­lease-agents for both smooth and ab­sor­bent form­work sur­faces. They have an ex­cel­lent se­parat­ing ef­fect and make for at­trac­tive con­crete sur­faces.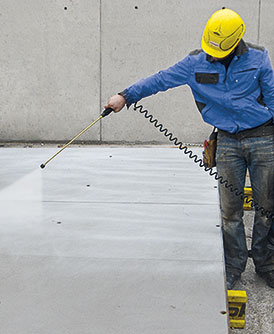 Do­ka-Op­tiX
The re­lease-agent spe­cial­ly de­signed for smooth form-fac­ings
easy to ap­p­ly – is sim­p­ly sprayed on with no need to wipe off any ex­cess

bright, low-pore con­crete faces, due to the chem­i­cal com­po­si­tion of the emul­sion

'ready' in­di­ca­tor rules out in­cor­rect use – pour­ing can be­gin as soon as the white colour has dis­ap­peared

can al­so be sprayed on in light rain and at tem­per­a­tures of down to -4° C

ready for use for up to 14 days af­ter be­ing ap­plied

eco-friend­ly, as it is bio-degrad­able
Do­ka-Trenn
The uni­ver­sal re­lease-agent for ab­sor­bent form­work sur­faces
ex­cel­lent se­parat­ing ef­fect makes form­work easy to de­tach

high­ly cost-ef­fi­cient, as it can be used very spar­ing­ly (up to 100 m²/l)

ex­cel­lent cree­p­a­bil­i­ty leaves a pro­tec­tive coat­ing on con­struc­tion equip­ment and form­work

frost re­sis­tant, so can be used all year round

does not im­pair ad­h­e­sion of sub­se­quent coats or smooth­ing-lay­ers on the con­crete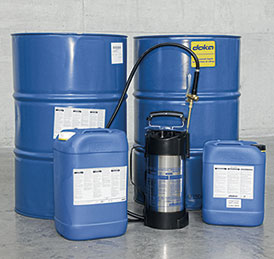 Doka release-agent are available in practical containers of various sizes.