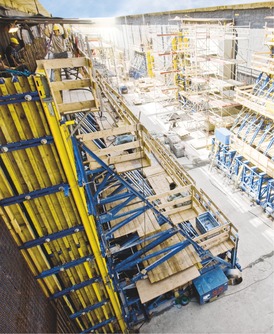 Supporting construction frame
Can support one-sided walls up to a height of 42' - 0"
Supporting construction frames enable the concreting forces to be safely transferred by way of diagonal anchors in cases where it is not possible to tie timber-beam elements or framed formwork panels through the concrete.
Downloads
Time and cost savings
from high-speed repositioning
The right repositioning solution in every case:
by crane
by travelling unit, on rails or rollers
Adjustable down to the last inch
thanks to innovative combinations
The unique supporting construction frame permits continuous adjustability, thanks to its
practical attachable frame
The bottom frames have both front and rear height adjustment jacks
Enhanced safety
thanks to its unrivaled range of accessories
Even greater safety, thanks to standardized solutions
concrete forces are safely transferred
ready-to-use platform solutions for all heights
safe vertical access routes for work inside the construction
References
system
Supporting construction frame Universal F
For pour heights of up to 42' - 0"
Flexible height adjustment
Tall units can be wheeled
Vertical stacking is easy and fast
Rapid adaptation to any uneven ground
Welded frame units eliminating 90% of assembly labor
Designed for normal pour pressure of up to 1,000 psf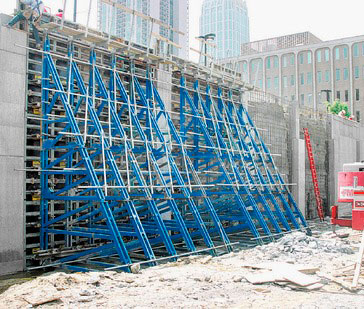 Single-sided walls in a single pour
Combining Framax Xlife panels with the supporting construction frame Universal F makes it possible to pour even very high walls in one continuous operation.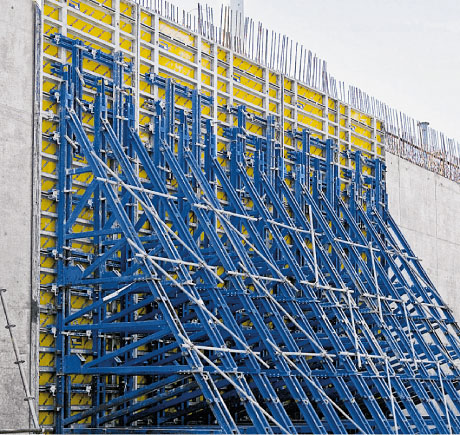 Inverted supporting construction frames
To support the heavy slab construction on this tunnel in Holland, MI, frames were inverted and adapted into a traveler setup. The entire unit is designed as a gang and can travel in large complete sections from pour to pour.
Tulip City Tunnel, Kent Companies, Holland, MI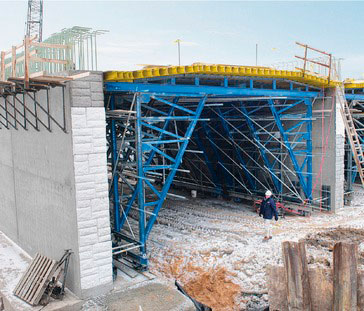 Utilisation
Custom applications
Positioned in the horizontal and anchored to the structure, supporting construction frames can be used to make heavy-duty platforms for formwork assignments at lofty heights.