The site-ready timber-beam formwork with a sys­tem-grid and no frame im­prints
With its prac­ti­cal el­e­ment size-grid, rapid stack­a­bil­i­ty and slip­page-free in­ter-el­e­ment con­nec­tions, FF20 is the right choice for many pro­jects where stric­ter re­quire­ments are made re­gard­ing the con­crete fin­ish.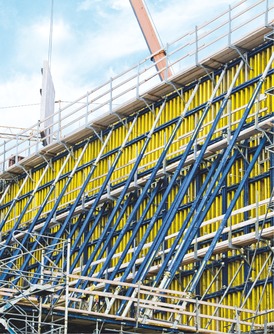 De­liv­ered to your site ready for use
in pre-as­sem­bled stan­dard el­e­ments
fast form­ing, even when tough spe­c­i­fi­ca­tions are made re­gard­ing the con­crete fin­ish, by com­bin­ing the ad­van­tages of tim­ber-beam form­work with the grid-re­lat­ed ad­van­tages of a framed form­work sys­tem

adapts eas­i­ly to any struc­ture, thanks to its prac­ti­cal el­e­ment size-grid

can be rent­ed, so is al­so eco­nom­i­cal for small num­bers of re­peat us­es

pro­ject-spe­cif­ic adap­ta­tion pos­si­ble, as it can be faced with any type of form-ply
Max­imised util­i­sa­tion of equip­ment
as there are on­ly a few dif­fer­ent el­e­ment widths
25 cm in­cre­ment grid sim­pli­fies plan­n­ing, form­ing op­er­a­tions and lo­gis­tics on the site

low­ers com­mis­sion­ing quan­ti­ties and ren­tal costs be­cause of its easy adapt­a­bil­i­ty
Rapid form­ing
thanks to its prac­ti­cal in­ter-el­e­ment con­nec­tions
quick and safe ver­ti­cal stack­ing fa­cil­i­tat­ed by in­te­gral cen­tring stack­ing flange

crane-han­dling-safe, tight, slip­page-free gangs achieved by spe­cial FF20 form­work el­e­ment con­nec­tor
Com­pre­hen­sive work­place safe­ty
with com­pat­i­ble lad­der­ways and work­ing plat­forms
safe ver­ti­cal ac­cess with the Lad­der sys­tem XS

work­place safe­ty on all sides with the Plat­form sys­tem Xsafe plus

prac­ti­cal accessories – such as pan­el struts, lift­ing/re­po­si­tion­ing de­vices etc. – make for safe, easy han­dling of the form­work
Please note:
Doka Switzerland uses the System timber-beam formwork FL20 U100, with a proven hole-grid. System documentation and user information can be obtained directly from www.doka.com/ch.
The FF20 el­e­ments
ingeniously co-ordinated panel formats, for getting maximum utilisation from the formwork
25 cm grid, with only four widths and three heights of element, simplifies planning, forming operations and logistics on the site
accessories can be easily attached to the transverse walings across the entire width of the element – with no obligatory fixing points
faced as standard with three-ply sheets; custom form-facing is possible whenever needed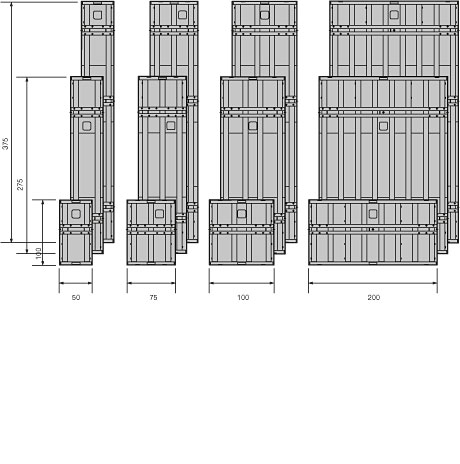 Height grid
FF20 standard elements can be used in conjunction with stacking elements to obtain practical formwork heights of up to 6.50 m. The 2.75 m high elements are symmetrical and can also be used upside-down.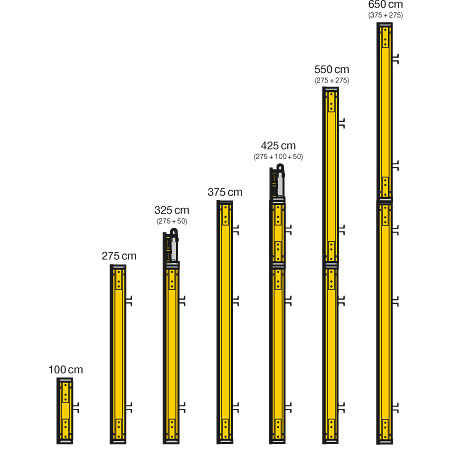 Ver­ti­cal stack­ing / in­ter-el­e­ment con­nec­tions
The Fastening bolt FF20, with a star grip nut, centres and connects the vertically stacked elements in a slippage-free manner. A turn-lock makes it easier to screw on the star grip nut.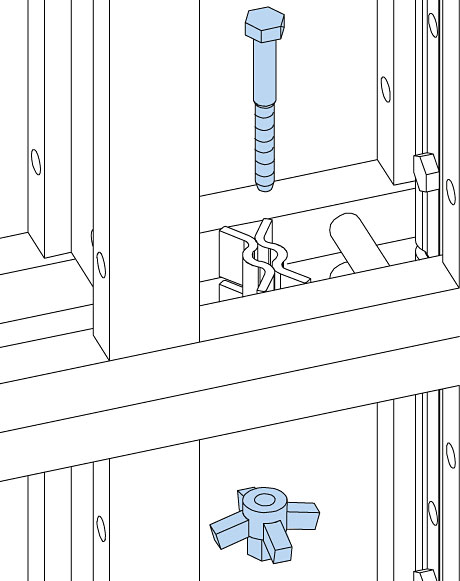 The Formwork element connector FF20/50 Z makes light work of pulling the ready-assembled FF20 elements together tightly to make an absolutely crane-handling-safe, non-slip join.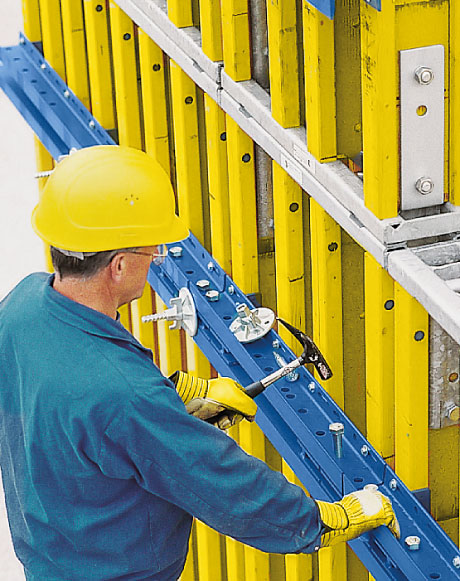 The pre-assembled elements are linked together in a 25 cm grid, permitting optimum adaptation to the structure.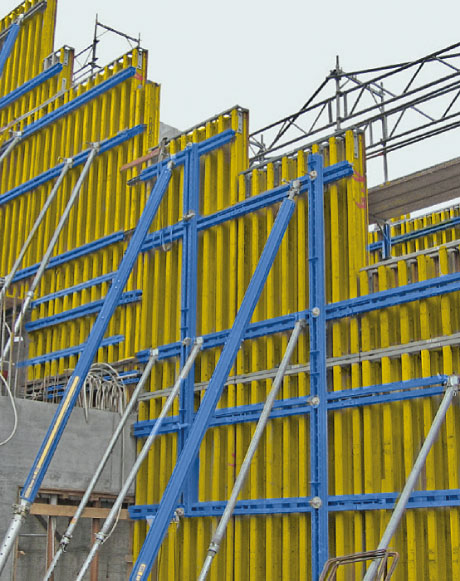 Right-angled corners are also easy to form using the modular elements, even with different wall thicknesses of up to 60 cm.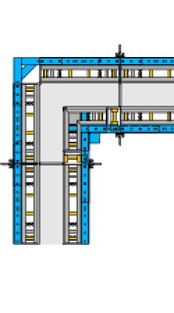 FF20 hinged corners provide professional solutions for acute and obtuse-angled corners.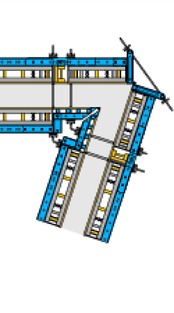 Wall formwork FF20 is also ideal for wall pillars.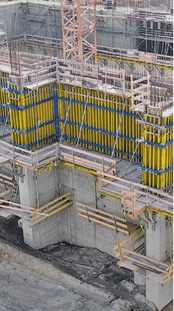 FF20 can also be dimensioned for use in the horizontal – for casting floor-slabs and walls in a single pour, in fair-faced concrete quality.