What is DokaCAD for AutoCAD particularly good at?
DokaCAD for AutoCAD is the powerful planning system for increased efficiency and planning cases.It combines the fast, automatic formwork planning with the flexibility of a CAD system
How do I update my version?
Updates are available for download in the Installer. They can be installed without intermediate steps as necessary. We recommend keeping the programme versions always up to date.
Where can I get help if I have a problem?
You can email questions about installation and authorisation to DFDS-Support@doka.com. For questions about how to use the programme, please use the built-in Help function. For questions regarding formwork technology and individual training offerings, please contact the Applications Engineering dept. at your nearest Doka branch.
What file formats can DokaCAD for AutoCAD handle?
DokaCAD stores the data in the AutoCAD drawing (.dwg) format. It can read its data from the current version and previous versions. This applies to max. two version levels before the current version.
Do I need any special prior knowledge in order to use DokaCAD for AutoCAD?
DokaCAD for AutoCAD is based on AutoCAD, so a good knowledge of AutoCAD is needed.The user interface makes use of terms that are common in the construction and formwork-engineering fields, so it is obviously an advantage to have technical knowledge in these areas. The same goes for basic skills in Microsoft Windows.You can call up a Help box for every menu item and dialogue.
How does authorisation work?
Download the InstallerStart the programme and step through the login procedureAfter successful registration, the programmes are available for download and enabled
Why are the DokaCAD and DokaTools menus not displayed?
Possible causes and solutions:
The DokaCAD profile is corrupted. Remedy: In Configuration 8, use the button labelled 'Default settings' and then use 'OK' to close the programme.
The 'Model documentation' function did not install when AutoCAD was installed. Please install it now. Model documentation includes additional layout functions for generating 3D views.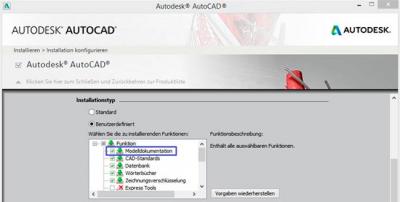 How long will I continue to receive support for version 8?
Support for version 8 was discontinued on December 31, 2018.