The high-per­form­ing steel-framed formwork for crane-as­sist­ed forming of large ar­eas
Fra­max Xlife is the framed form­work sys­tem that us­es on­ly a very few dif­fer­ent pan­el for­mats to achieve a con­sis­tent 15 cm in­cre­ment-grid, no mat­ter whether the pan­els are stood up­right or on their sides. All the con­nec­tors and accessories fit seam­less­ly in­to this grid – mak­ing for fast form­ing-times and high ef­fi­cien­cy.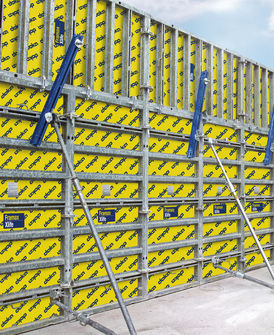 High­ly cost-ef­fi­cient
be­cause of its out­s­tand­ing sys­tem at­tributes
high num­bers of re­peat us­es made pos­si­ble by its ex­cel­lent man­u­fac­tur­ing qual­i­ty and ex­tra-durable Xlife sheet

small­er num­ber of (ex­pen­sive) clo­sure zones, due to the con­sis­tent 15 cm in­cre­ment-grid

the wide­ly spaced form-ties (1.35 m apart) save up to twelve per­cent of the costs for ties and fin­ish­ing-work on tie-holes

gal­vanised, pow­der-coat­ed steel frame, for long lifes­pan

com­pact gang-forms mean less crane time is re­quired

thanks to steel-on-steel seal­ing, the Fra­max Xlife plus tie rod sys­tem does not gen­er­ate any plas­tic wear­ing parts
Rapid work­ing
as so few work­steps are in­volved
form­ing-times are kept short by the wide­ly spaced form-ties (up to 1.35 m apart)

short­er form­ing-times due to in­no­va­tive tie rod sys­tem Fra­max Xlife plus that can be op­er­at­ed from one side

rapid form­ing pos­si­ble thanks to large-area gangs or ex­tra-large pan­els

with a high-pres­sure wash­er, fi­nal and in­ter­me­di­ate clean­ing is easy, thanks to the pan­els' pow­der-coat­ed frames and stur­dy tim­ber-plas­tic com­posite sheets
Easy han­dling and plan­n­ing
aid­ed by prac­tice-fo­cused sys­tem lo­gis­tics
the in­ge­nious­ly co-or­d­i­nat­ed pan­el for­mats, with their log­i­cal size-grid, help you make op­ti­mum use of form­work com­mis­sion­ing quan­ti­ties

hav­ing on­ly five pan­el widths makes for easy plan­n­ing and form­ing, and ef­fi­cient lo­gis­tics
Su­perla­tive con­crete re­sults
fa­cil­i­tat­ed by prac­ti­cal prod­uct de­tails
clean con­crete fin­ish from the high-grade Xlife sheet with its plas­tic-en­hanced sur­face

the in­ge­nious­ly co-or­d­i­nat­ed pan­el size-grid per­mits a neat joint pat­tern even when com­bin­ing up­right and hor­i­zon­tal pan­els

when us­ing Fra­max Xlife plus, pan­els with cen­tral­ly ar­ranged form-tie points cre­ate well-ar­ranged form-tie and joint pat­terns

no screw im­prints in the con­crete, as the form­work sheet is screwed on from the rear

the neat neg­a­tive frame-im­prints in the con­crete min­imise any fin­ish­ing-work
Com­pre­hen­sive work­place safe­ty
with com­pat­i­ble ac­cess sys­tems and work­ing plat­forms
safe ac­cess sys­tems with the lad­der sys­tem XS

work­place safe­ty on all sides with the plat­form sys­tem Xsafe plus

prac­ti­cal accessories – such as pan­el struts, lift­ing/re­po­si­tion­ing de­vices, 3-in-1 pole tool etc. – make for safe, easy han­dling of the form­work
Fra­max Xlife
The ingeniously co-ordinated panel formats let you get the greatest possible use out of the formwork
15 cm grid, achieved with only five widths and three heights, simplifies planning, forming and logistics on the site
the frames come with practical cross boreholes that simplify work on stop-ends, corners and columns
stable galvanised powder-coated steel frames ensure plane concrete surfaces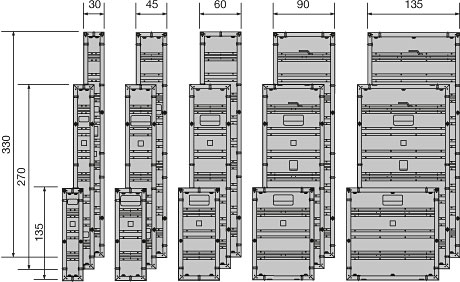 Fra­max Xlife sheet
very high numbers of re-use cycles possible, thanks to plastic-enhanced surface and special sheet structure
fewer positive imprints, due to the sheet's great resistance to scratching and vibrator damage
fewer areas needing repair, as there is no splintering and far less swelling around nail-holes
easy, fast (intermediate) cleaning, also using high-pressure washer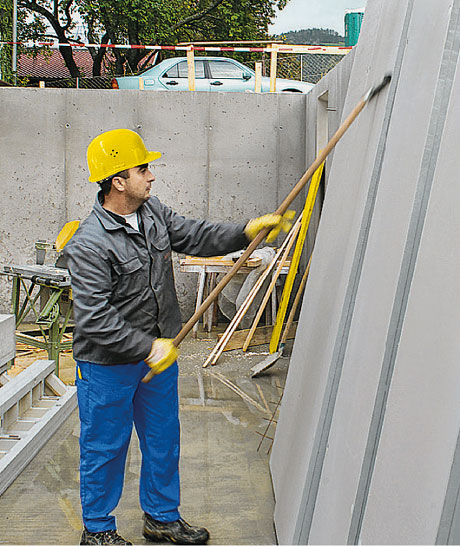 Fra­max ex­tra-large pan­els
for large-area formwork units, meaning fewer inter-panel connections and short repositioning times
the panels can be used facing one another in the upright
the large-area elements are especially suitable for producing fair-faced concrete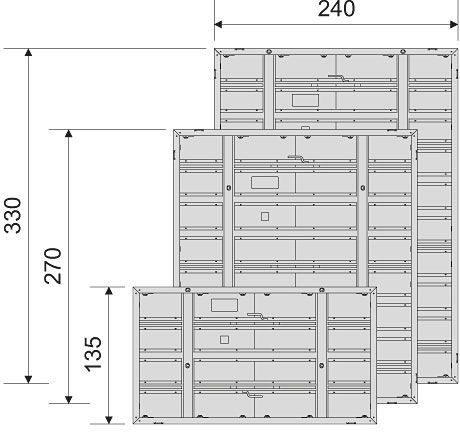 Shaft form­work with Fra­max strip­ping corn­er I
The Framax stripping corner I was designed specifically for use with shaft formwork. It enables the formwork to be closed and opened in accordance with accident protection regulations, i.e. without using the crane, simply by operating easy-to-turn spindles with a reinforcement rod or the convenient ratchet. It is then lifted and reset in one piece, thus saving crane-time. The Framax stripping corner I is also suitable for use on pilasters and as an inside corner on wall formwork.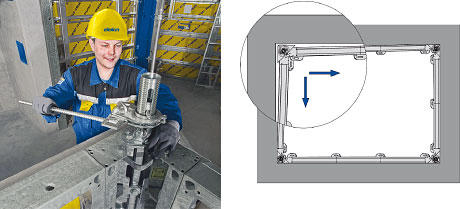 Clo­sures
With its 15 cm clamping range, the Framax multi-function clamp matches the panel size-grid exactly. This means that only one closure is needed per wall plane.
Fra­max 3-in-1 pole tool
For operating the lifting hook safely from ground level, for plumbing and aligning the formwork and for pulling out double-headed nails.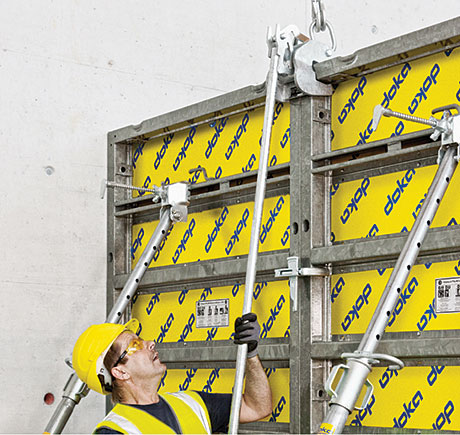 Uni­ver­sal pan­el SCC
This makes it possible to place self-compacting concrete (SCC) by pumping it into the formwork from below. It can be used for both walls and stop-ends.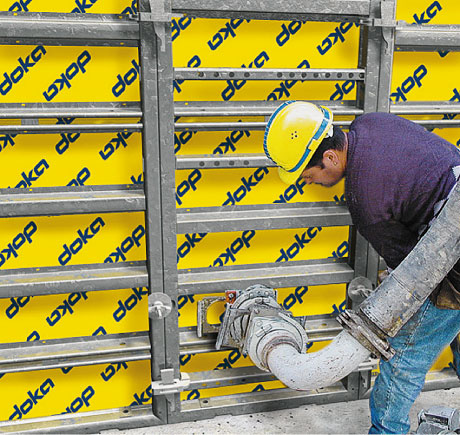 Ty­ing
The wide form-tie spacing of up to 1.35 m delivers huge cost-savings. The large, conical form-tie sleeves in the panels enable them to be stood at an angle on one or both sides, and to be height-mismatched.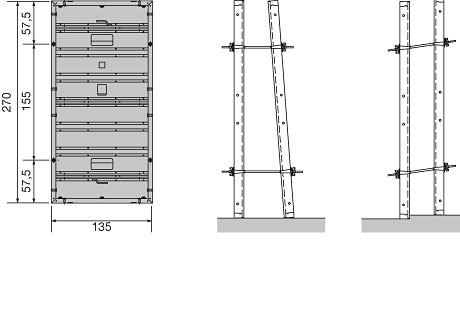 Monotec ty­ing sys­tem
Allows form-tie points to be prepared quickly and reliably by just one man. This ergonomically comfortable option for manipulating the ties from just one side of the formwork saves time, and thus shortens the forming-times.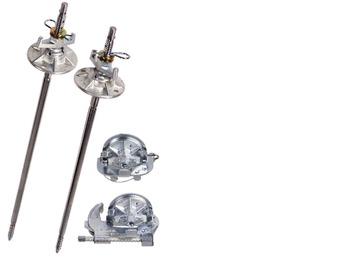 Fitt­ing the Monotec ty­ing sys­tem
The combination nut is both the panel connector and the form-tie nut. It holds the panels together on the side that is put up first. On the extra-large panels, the form-tie nuts are bolted onto the frame profile. After the formwork has been closed, the Monotec ties are fitted from one side and tightened with the Monotec ratchet.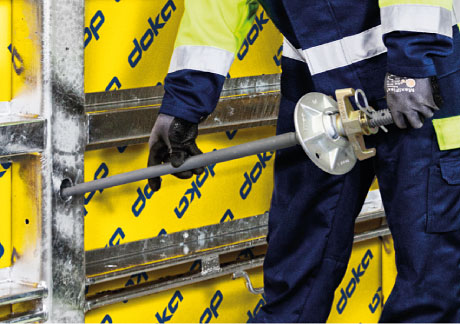 Wall thick­ness­es with Monotec ty­ing sys­tem
Only two different types of conical Monotec tie are needed for economically forming wall thicknesses of between 15 cm and 35 cm.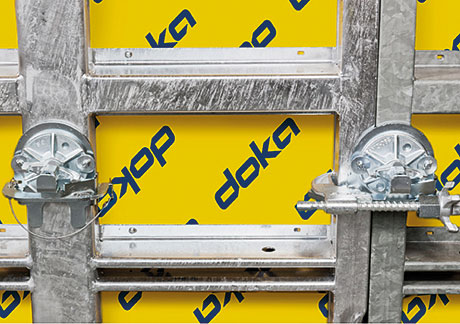 Pan­els with form-ties on the in­side for ex­pan­sion of Fra­max Xlife
Well-ar­ranged con­crete sur­faces and short­er form­ing-times
Framax Xlife plus panels complete the proven framed formwork Framax Xlife. Only a few additional panels are required to implement requirements with respect to form-tie grids and joint pattern quickly and reliably.
panels with form-tie points located inside produce well-arranged form-tie and joint patterns
consistent joint pattern thanks to co-ordinated panel formats even with vertical/horizontal combination
error-free form-tie setting as every single form-tie point is used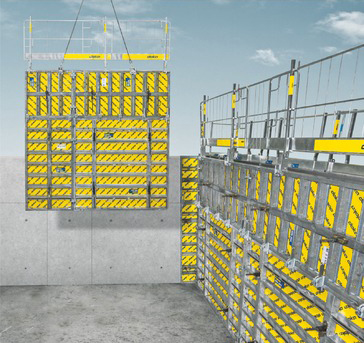 Fra­max Xlife plus Tie rod sys­tem 20.0
savings of up to one third of forming and stripping time
shorter forming-times due to innovative Tie rod system Framax Xlife plus that can be operated from one side
the widely spaced form-ties (1.35 m apart) save up to twelve percent of the costs for ties and finishing-work on tie-holes
less time spent searching because the form-tie can be parked directly at the form-tie point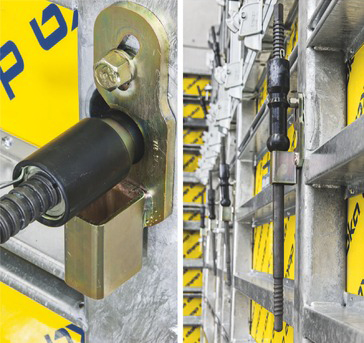 In­ge­nious­ly co-or­d­i­nat­ed pan­els
Framax Xlife plus system logics facilitate optimum material use and logistics for improved overview on site: The primary panel is square and allows for horizontal stacking with only a few standard panels - without a multitude of additional small elements.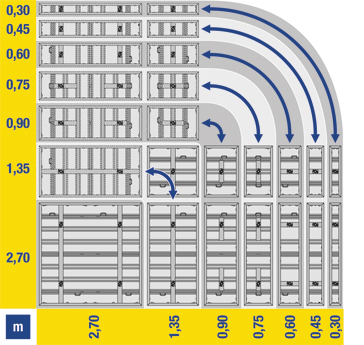 One-sid­ed tie rod sys­tem Fra­max Xlife plus 20.0
The Framax Xlife plus form tie reduces labour expenses because it can be handled by one person on one side. It is threaded through the large form-tie sleeves and screwed only from the side of the closing formwork. Thanks to its conical shape, neither jacket tubes nor cones need to be installed. For repositioning, form-ties can be temporarily secured directly in the panel's distance protectors and thus are immediately available again.
In­no­va­tive steel-on-steel seal­ing
The Framax Xlife plus tie rod system is especially reliable thanks to complete sealing of the form-tie on the panel without plastic parts prone to wearing.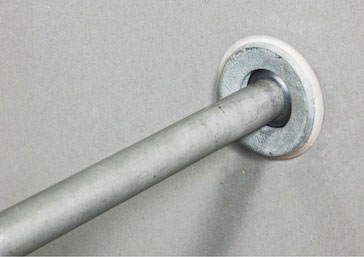 Re­li­able sett­ing of wall thick­ness
Once set, the wall thickness remains reliably intact - even after stripping. Accelerated work progress as there is no need to set it again.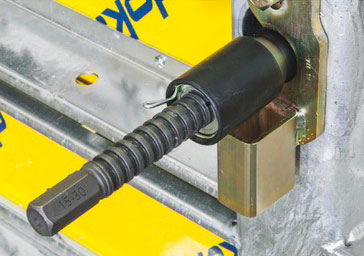 In­te­grat­ed wal­ing sys­tem
Connector-rails across the entire width of the panel make quick and easy work of attaching accessories like panel struts, universal walings and pouring platforms, with no obligatory fixing points.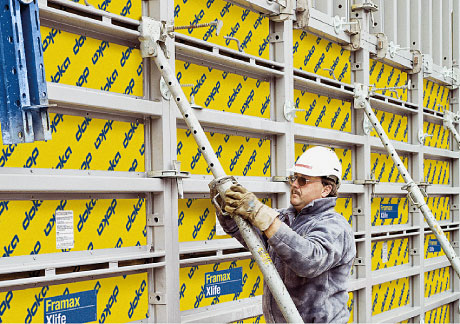 Join­ing
A blow of the hammer is all it takes to join the elements. This makes for fast working, with no need for any additional tools.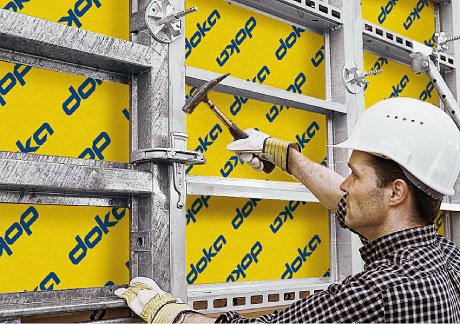 Ver­ti­cal stack­ing
Up to a panel height of 5.40 m, the multi-function clamp, with its larger contact surface, ensures self-aligning inter-panel connections. For higher vertically stacked gangs than this, Universal walings are used to give the gang-form extra rigidity. This makes it possible to put up and set down larger gang-forms by crane.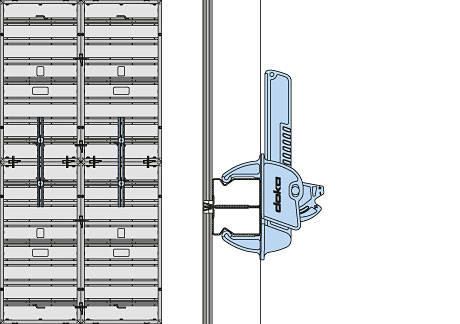 End-shut­ter­ing
The special hole-grid in Framax Xlife universal panels makes them ideally suitable for cost-saving forming of outside corners, wall junctions, stop-ends and columns.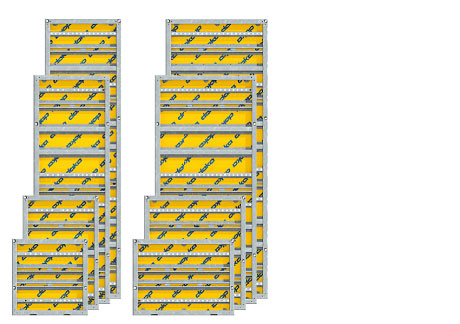 Corn­ers and junc­tions
Corners at any angle, stop-ends and T-junctions can all be formed swiftly and dependably using the inside corners, hinged corners and versatile Universal panel from the Framax "construction kit". This is the way to avoid costly field-built solutions.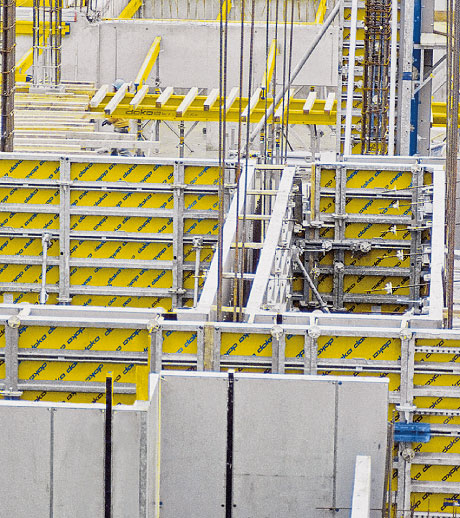 Work­ing safe­ly, with the Plat­form sys­tem Xsafe plus
These pre-assembled, fold-out working platforms, with their integral front/rear and side railings, ladders and self-closing manhole lids, are ready for immediate use and bring about decisive improvements in workplace safety.