Form ties/Suspension cones
Safe ty­ing and an­chor­ing tech­nol­o­gy for all formwork tasks
De­pend­able form-ties and safe sus­pen­sion points are cru­cial for ef­fi­cient and safe us­age of any form­work. For both wall form­work, sin­gle-sid­ed form­work and climb­ing form­work, a com­plete range of field-proven form-tie so­lu­tions and sus­pen­sion points is avai­l­able.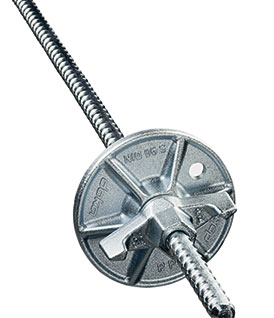 Eco­nom­i­cal, down to the last de­tail
by be­ing easy to mount and of high man­u­fac­tur­ing qual­i­ty
rapid pour­ing is pos­si­ble thanks to the high load ca­pac­i­ty of Do­ka tie-rods

Do­ka's com­plete range of accessories – with e.g. dis­tance pie­ces, jack­et tubes and an­chor­ing cones – avoids ex­tra pro­cure­ment work

on sin­gle-sid­ed form­work, the con­crete pres­sure is safe­ly trans­ferred in­to the con­crete base slab by Do­ka stop-an­chors and Do­ka pig­tail an­chors
Safe sus­pen­sion points
pro­vid­ing a de­pend­able link be­tween the struc­ture and form­work
for safe work­ing on tall struc­tures

on work and pro­tec­tion plat­forms such as the Fold­ing plat­for­m K

on climb­ing and au­to­mat­ic climb­ing form­work

on dam form­work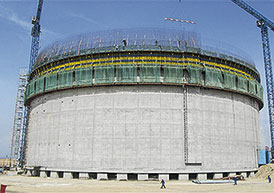 Doka also offers solutions for preparing form-tie points that meet the following requirements: water-impermeable, fire-resistant, sound-insulating and gas-impermeable.