A formwork system sets new standards
Framax Xlife is the framed formwork system that uses only a very few different panel formats to achieve a consistent 6" (15 cm) increment-grid, no matter whether the panels are stood upright or on their sides. All the connectors and accessories fit seamlessly into this grid – making for fast forming-times and high efficiency.
Fast Working
thanks to optimized design
Framax Xlife speeds up progress on your site with its
small number of easy-to handle component parts

quick lightweight clamp - only a hammer is required for assembly

versatile tie solutions, taper ties, she bolts or thru-rods with tubes

gang ability to fly entire pre-assembled units with one pick into place

fast assembly that is consistently over 100 sq. ft. per man-hour
Consistent Concrete Finish
Thanks to superior product quality
Highly economical thanks to
7/8 thick Xlife plywood that provides a consistent finish

7/8 thick Xlife plywood that is sealed in the frame with hot caulking & attached with screws from the back
Innovative System
Thanks to detailed design specific to the US & Canadian market place
Save time in the details thanks to
Imperial dimensioned corner panels so there is no need to convert from inches to millimeters to form the details

Stripping corners that allow for relief in a core at one location

Universal panels for up to 42" columns at 1880 psf

Hinged universal pilaster forms for fast stripping of gangs between pilasters

Steel filler panels to eliminate wood fillers
The accident risk is reduced, and legally compliant working conditions are ensured, by having
six safety tie off handle connections that are built into every panel and meet OSHA requirements.
Framax Xlife panels
Modular and symmetrical panels ensure the best possible utilization of formwork.
Only 7 panel widths in 6" increments simplifies planning, forming and logistics on the construction site.
Reinforced holes in the panel frames allow for strong structural connections for bulkhead forming, dependable solutions for corners and column formwork.
Hot-dipped galvanized and powder coated steel frames eliminate rust and greatly reduce maintenance costs.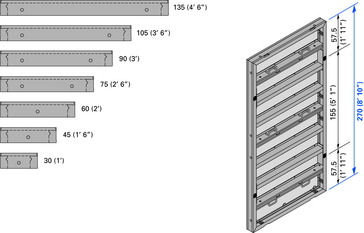 Universal panels
The special pattern of holes makes these panels ideal for the economical forming of outside corners, wall connections, bulkheads and columns.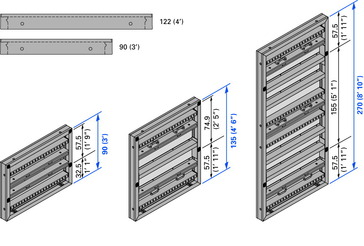 Framax Xlife large panel 240 x 270
For large gang form units or for use with support frames, fewer connectors.
The panel can be used upright and facing each other.
The large panel is ideal when less joints are desired.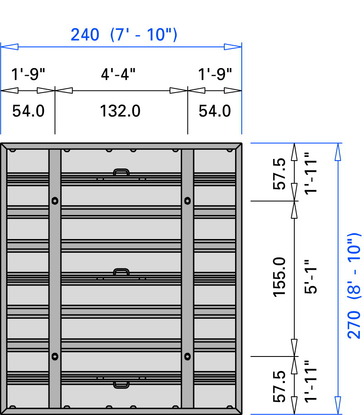 Framax Xlife panel
Framax Xlife with the innovative Xlife facing takes the number of reuses way up and pushes follow-up costs way down.
Extremely long useful life
The Framax Xlife panel is a radically new development. Its revolutionary design with the special plastic surface means up to three times more durability. This feature combined with the tried-and-tested steel frame, hot-dip galvanized and powder coated, makes the Framax Xlife exceptionally economical.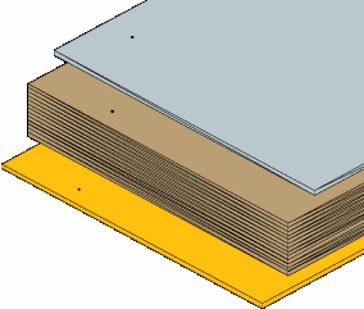 Outstanding concrete surfaces
The special surface of the Framax Xlife panels produces an excellent concrete finish, not just the first time, but again and again and again.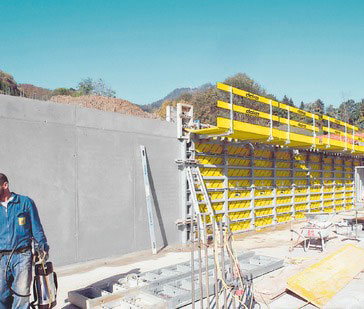 No fracturing of the surface when nails pierce the panel face
Nailing through the panel does not impair the clean face of the concrete. The surface of the panel does not fracture and chip where the nails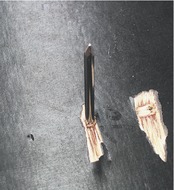 Pierce it, so there are no ugly marks in the concrete.
Straight comparison shows that Framax Xlife nails much better than conventional formwork panels.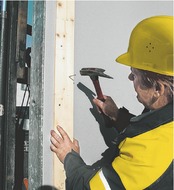 Easy to clean and recondition
The surface of the panel is extremely dense and smooth, so dried concrete scrapes off easily. The panels can even be cleaned with high pressure washers.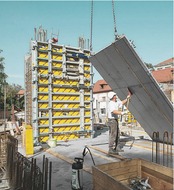 The damaged area is routed out with a special router bit and a plastic patch applied for a seamless finish.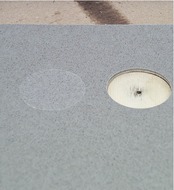 Shaft formwork
The Framax Xlife stripping corner I is designed specifically for shafts. Only four adjustments are necessary and all the work can be done by one worker at the top of the core. The built in ratchet design makes the operation safe and fast. No crane is required to either expand to set or contract to strip the core forms in accordance with accident prevention guidelines. The unit repositions in a single lift to save crane time. The Framax Xlife stripping corner I is also suitable for pilasters and as an inside corner for wall formwork.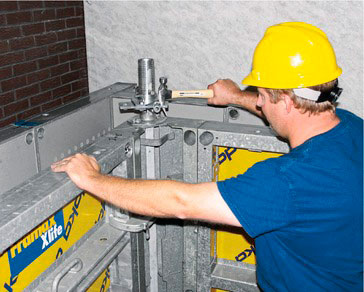 Fastest strip possible for cores
Once it has been separated from the concrete, the entire shaft formwork can be lifted as a unit without further disassembly. The savings on time are enormous.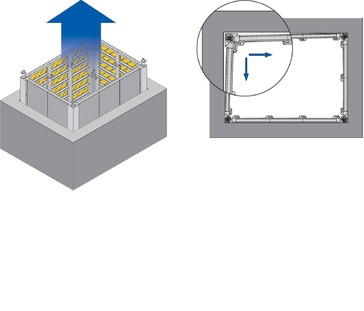 Pilasters
The pilaster panels make quick work of forming pilasters. Pilasters up to 18", in 2" increments and 24" when used with outside corners.
Position 1: Locked at right angles with quick pins for pouring.
Position 2: Folded flat for stripping and resetting.
A: Pilaster panel
B: Framax Xlife panel
C: Universal fixing bolt + super-plate 15.0
D: Quick acting clamp RU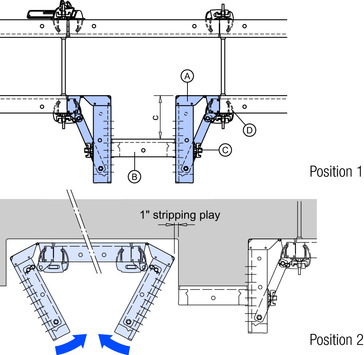 She-bolt system 1 1'/2"
A: She-bolt 1 1/2"
B: Anchor plate 1 1/2"
C: Wing nut 1 1/2"
D: Coil rod 1"
Permitted capacity allowing a 2:1 factor of safety against failure: 37,500 lbs (166kN)

Taper-tie system 1 1/2"- 1 1'/4"
A: Taper tie 1 1/2" to 1 1/4"
B: anchor plate 1 1/2"
C: Wing nut 1 1/2"
D: Anchor plate 1 1/4"
E: Wing nut 1 1/4"
Permitted capacity allowing a 2:1 factor of safety against failure: 50,000 lbs (222kN)

The Doka form-tie system 20.0
A: Tie-rod 20.0mm
B. Super-plate 20.0 B
C: Plastic tube 26mm
D: Framax S universal cone 1"
Permitted capacity, allowing a 2:1 facotr of safety: 38,000 lbs (169 kN)

The 135 x 270 Framax Xlife panels provide a tie spacing of 20 sq. ft. per tie. This means up to 20% fewer ties and correspondingly shorter forming times. Labor costs for stripping and finishing of tie holes are also reduced.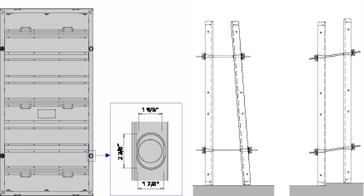 Fillers
Steel and timber fillers make details a snap. The multi-function clamp has an adjustment range up to 6" (15 cm), which matches exactly the steps in panel widths. In many instances, a single filler per wall is all that is necessary.
Universal Panel SCC
The universal panel SCC permits self-compacting concrete (SCC) to be pumped into the formwork from below:
Self-compacting concrete (SCC) reduces air content by itself and finds its own level. Ideal for complex geometries and very highly reinforced structural elements. No manual compacting is necessary.
The universal panel SCC has a special adapter with a gate for connecting to concrete pumps.
Perfect compaction even for thin, high and heavily reinforced walls.
Walls are easily poured between floors.
Can be used in the wall or bulkhead forms.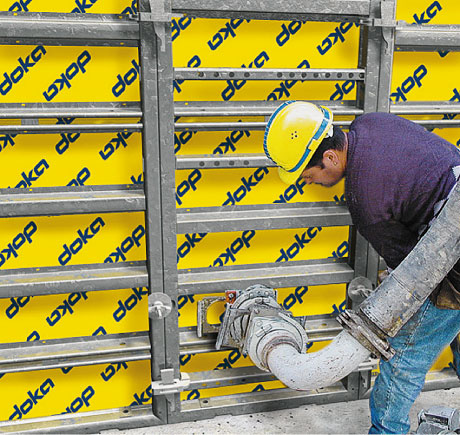 Framax Xlife Column Formwork
The 90 cm and 122 cm wide Framax Xlife universal panels are ideal for forming changing column cross-sections in 2" increments - without extra column formwork on the construction site.
Accommodate column cross-sections of up to 42" in 2" increments.
Are ideal for corners and bulkheads - for optimum utilization of the formwork.
Reduce quantities on site and costs for rental, because they are universally adaptable.
Can be lifted complete with the column formwork platform.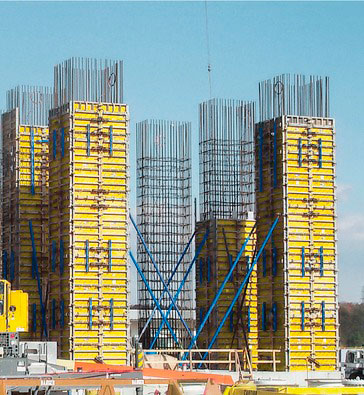 Circular Formwork with Framax Xlife
The fast way to form chorded circular walls
With the Framax Circular forming plates and Framax Xlife formwork panels, radius walls can be formed effortlessly.
Reduce costs and form circular walls efficiently by using existing Framax Xlife panels and all accessories such as panel struts and pouring platforms from the Framax Xlife product line.
This makes circular forming of curved concrete walls with Framax circular forming plates economical and fast.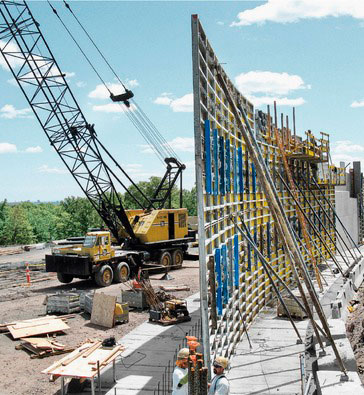 Integrated waling system
Connecting rails over the entire width of the panels ensure fast installation of accessories such as panel struts, universal waling and walkway brackets - quick as a flash at any location along the integrated waling system.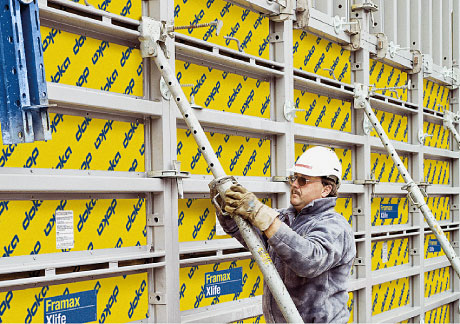 Connectors
Joining the panels takes a single blow with the hammer - for fast assembly without additional tools. Only two lightweight clamps are required for joining two 270 high panels. The RU clamps have no fixed position. Adjacent panels can be at different elevations because of the frame profile.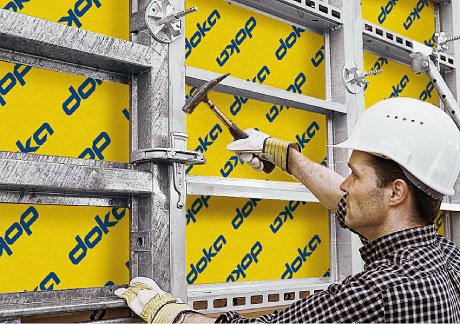 The safe way to pour concrete
Wide working platforms make work faster and safer. Framax Xlife pouring platforms fold out quickly and drop into position ready to start pouring.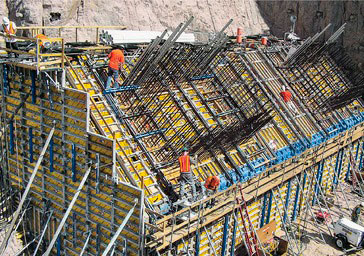 Safety tie off handles
To facilitate work on the formwork
To attach a safety harness
Meets the OSHA requirements